---
The Fu style, developed by Fu Zhen Song
About the Fu style
Biography of Fu Zhen Song
Schools teaching this style
Choosing a teacher
Forms
Pics
Lineage
Internal style principles
Clips of Fu style
Clips of other styles
Scientific research on tai chi
Other links
Website author
Website author

This website is written by Brett Mahar. I live in Melbourne, Australia. My practice of tai chi began in 1993. My main training was from 1994 to 1999, when I had individual instruction in Sydney from William (Wing Hung) Yeung (a 4th generation disciple of Fu Zhen Sung). William's main internal style teacher was Chen Leung (陳良) in Hong Kong, a student of Fu Zhen Song and formal disciple of Fu Yong Hui. William trained 3 days per week for around 10 years with Chen Liang, and after moving to Australia went back about 4 times per year for the next 20 years for further training. Prior to that William had practiced external styles for many years (his last exteral style teachers were the Chinese Army border guards on the Hong Kong-China border. After he completed his Kung Fu training with them they advised him to switch to internal styles). I was trained in:

Qi gong
Yang style tai ji (tai chi)
Sun style tai ji (tai chi)
Fu style tai ji (tai chi)
Fu style ba gua zhang (pa qua chang)

Other students (many of whom were already skilled in other internal and external systems they had learned in Hong Kong) were learning Fu style xing yi, ba gua, Chen, Fu and Yang styles of tai chi at this time, so I had the opportunity to discuss and observe these styles (each student was taught one-one-one while the others practiced).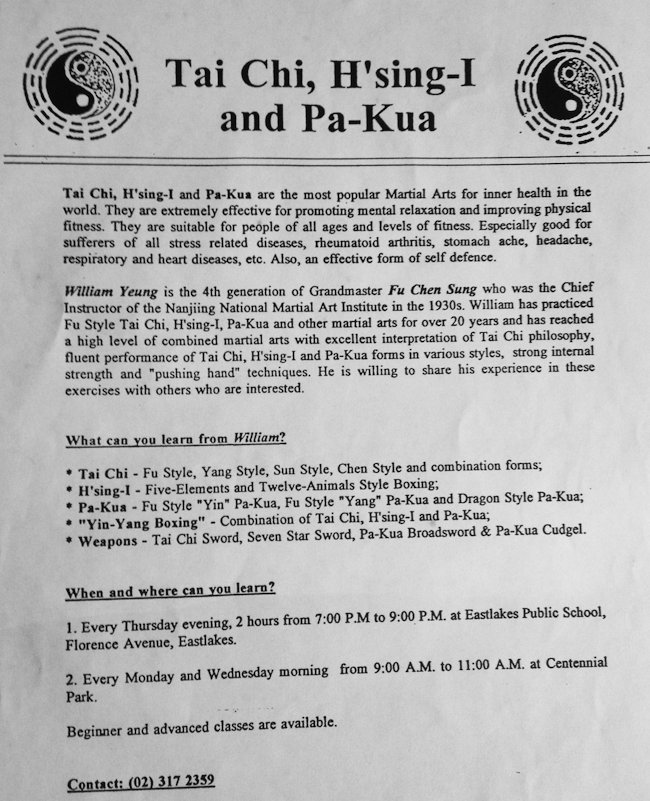 William's class flyer from the early 1990s. I went travelling to find a good tai chi teacher and was very happy to discover this school in Sydney, the first city I checked.
After leaving Sydney, I visited many schools in my travels, joining classes in Brisbane (Chen style), Canberra (Yang style), London (Yang style), and New York (Wu, Chen, and Yang styles). I attended some seminars at Bow Sim Mark's school in Boston, and some private lessons with Liang Qiang Ya in San Francisco. I eventually dropped the other styles and continue to research and practice qigong and the Fu and Sun styles of tai chi.
My related studies are:
Diploma of Zen Shiatsu, Shiatsu Ryoho 1995
Diploma of Yoga Therapy, Shiatsu Ryoho 1996
Diploma of Shiatsu and Oriental Therapies, Australian Shiatsu College 2016
Bachelor of Health Science/Bachelor of Applied Science (Chinese Medicine), RMIT (currently studying)

Other studies:
BA, University of New South Wales 2005.
MProfAcc, University of New South Wales 2007.

My other interests include science fiction, film, and Chinese philosophy and medicine.

Hope you enjoy the site! Feel free to email me at brettm@coiloptic.org






This site uses the nginx webserver running on openbsd.

Website copyright 2007-2017 by Brett Mahar, unless otherwise indicated.